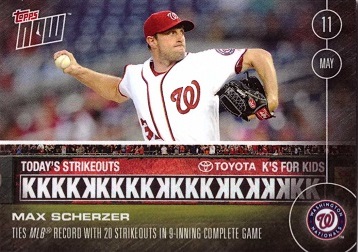 This card was available for only 24 hours via the Topps web site, and commemorates Max Scherzer striking out TWENTY batters in a 9-inning game on May 11, 2016. The back of this card reads:

"Facing his former club, Max Scherzer fired 20 strikeouts over a complete game effort, fueling a 3-2 victory for the Washington Nationals over the Detroit Tigers. In doing so, Scherzer joined a list that includes Roger Clemens (x2), Randy Johnson, and Kerry Wood for most strikeouts in a 9-inning performance, and he also became the second active pitcher in MLB to defeat all 30 clubs in his MLB career, a feat also acommplished by John Lackey."
Max Scherzer
2016 Topps Now #68 - Only 3,746 made!
20 Strikeout Game on May 11, 2016
Near Mint to Mint
$14.95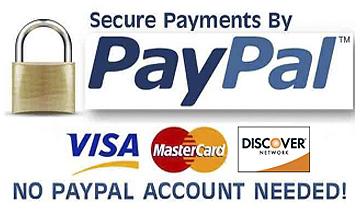 To purchase by credit card or PayPal, click on "Add to Cart" above. To purchase by phone, or have a question, call 423-531-8909.

To purchase by check or money order, send payment to the address in the upper left corner of your screen. Please include a list of the card(s) you are buying and be sure to add the appropriate shipping charge.